54. Dr. Lingzis Tang visited Taiwan
 
Invited by Taiwan University and Taiwan Ocean University. Dr. Lingzis Tang visited Taiwan in Nov and Dec 2006. She visited Center of Ocean Science, Taiwan University, Taiwan Ocean University, Sun Yeshing University, and Central Weather Bureau, Taiwan.
 
 

53. 唐丹玲博士作为中国代表团成员访问印度, Lingzis visited Indian (INO and IIT)
 

As one of the delegates of Chinese Delegation, Professor Lingzis Tang participated "The CSIR-NSFC Workshop on Global Change: Ocean - Atmosphere-land interactions driven by Monsoon"in Goa in Nov-Dec 2006, and chaired"Biological Dynamics "Session, and report the progress of her research project supported by National Natural Science Foundation,"Remote sensing of response of phytoplankton/Chl a to Indian Tsunami- (http://lingzis.51.net/index.html)

.
 


 





此次获中国国家自然基金委员国际(地区)合作交流项目和印度科学与工业发展委员会推荐和资助,唐丹玲博士访问了
National Institute of Oceanography (NIO), Goa,与同行科学家共同起草了合作研究课题计划,并为南海洋所和印度国家海洋研究所科学家建立联系;唐丹玲博士还访问了印度技术研究所(Indian Institute of Technology (IIT), Dehle, and Kanpur)与她的国家自然基金项目, "遥感分析2004年南亚大海啸对


印度洋叶绿素时空分布的影


响"的合作者Professor Rameshe P. Singh博士进行了深入探讨交流。. http://www.scsio.ac.cn/infoView.aspx?cid=6&id=3398
 

52. Dr. Lee XF (李晓峰) and Dr. Kent. H. Hughes, (NOAA,USA) Visited our lab in Dec 2006.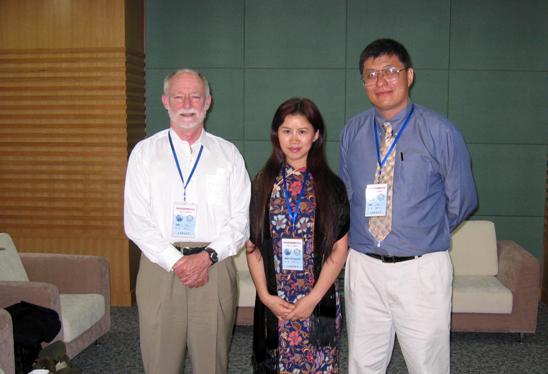 51. Dr. Wong Poh Poh
,
Professor, Department of Geography, National University of Singapore, Singapore
,
visited us in Dec 2006.
 

50. Professor Huang RX's visit

Professor Huang (黄瑞新 教授, 美国美国伍兹霍尔海洋研究所) visited us and gave lectures in our institute. Nov 2006.

 

49. 唐丹玲博士参加"中国科学院"百人计划"入选者学习班。 北京。 Nov, 2006.